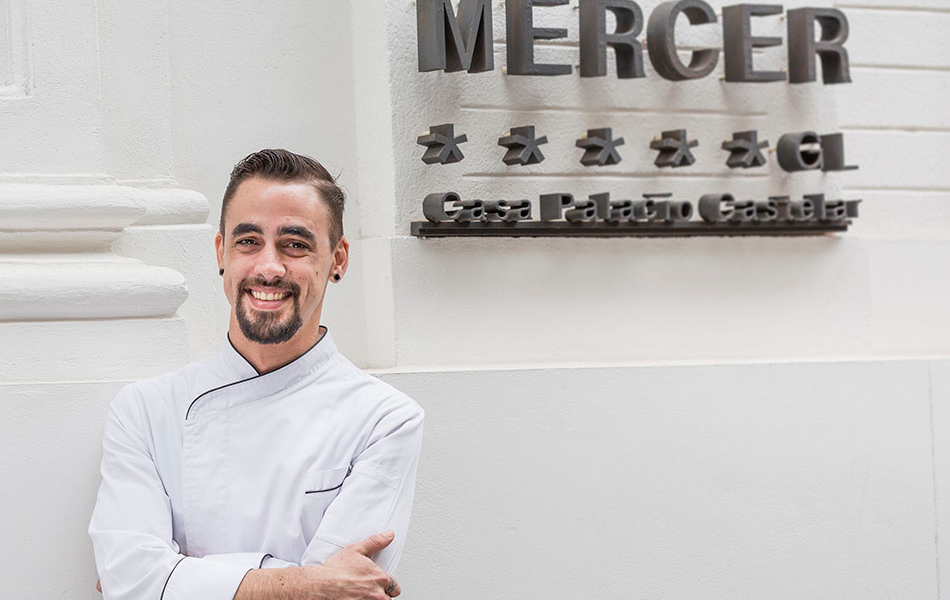 Interview with Rafa Liñán, Executive Chef at Mercer Sevilla
On the occasion of María Luisa Restaurant first anniversary, we interviewed chef Rafa Liñán.
The hotel Mercer Sevilla opened the doors of its María Luisa restaurant one year ago. Since then, the young Sevillian chef Rafa Liñán is in charge of the hotel's kitchen: A year full of challenges that we talk about with the chef.
With only 32 years old, after his time at the Heineken Hospitality School in Seville, chef Rafa Liñán starts his "learning trip". His training goes through kitchens of Hacienda Benazuza (Seville), Zaranda restaurant (Majorca), Calima (Marbella), Casa Alta (Seville) and Cambio de Tercio (London). And after two years in England, he returns to Spain to participate in the opening of the Estimar (chef Rafael Zafra restaurant in Barcelona) and Heart Ibiza (the Cirque du Soleil and Adrià brothers project). The last stop of his trip is in his region, at The Mercer Sevilla restaurant, "María Luisa".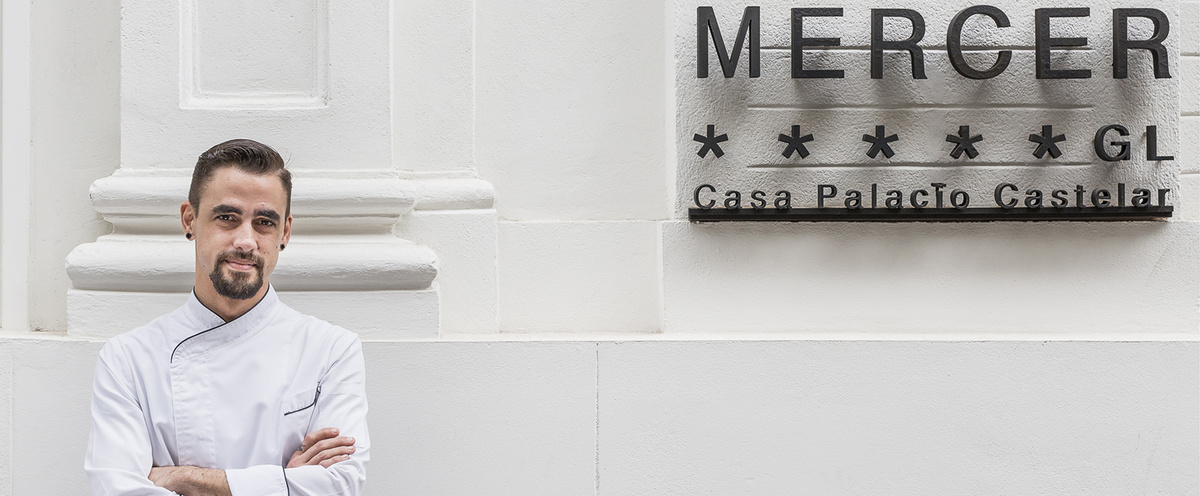 How do you feel having returned home to cook?

I'm happy and excited to return home with the knowledge acquired from all the great chefs and colleagues with whom I have worked during this time [he has collaborated with chefs as Rafa Zafra, Fernando Arellano, Dani García, Javier Padura, Lucas Bernal and Alberto Criado]. And whising to continue to imbibe new stories and experiences.
What kind of cuisine offers María Luisa's menu?

It's a cuisine based on flavors of our land, Andalusia characteristic flavors, respecting and pampering the product, trying to offer the highest quality and proximity products as possible. The menu, directed by Rafa Zafra, aims to reinvent or, better said, rediscover the traditional Andalusian recipes, contributing new techniques to the cuisine we already know.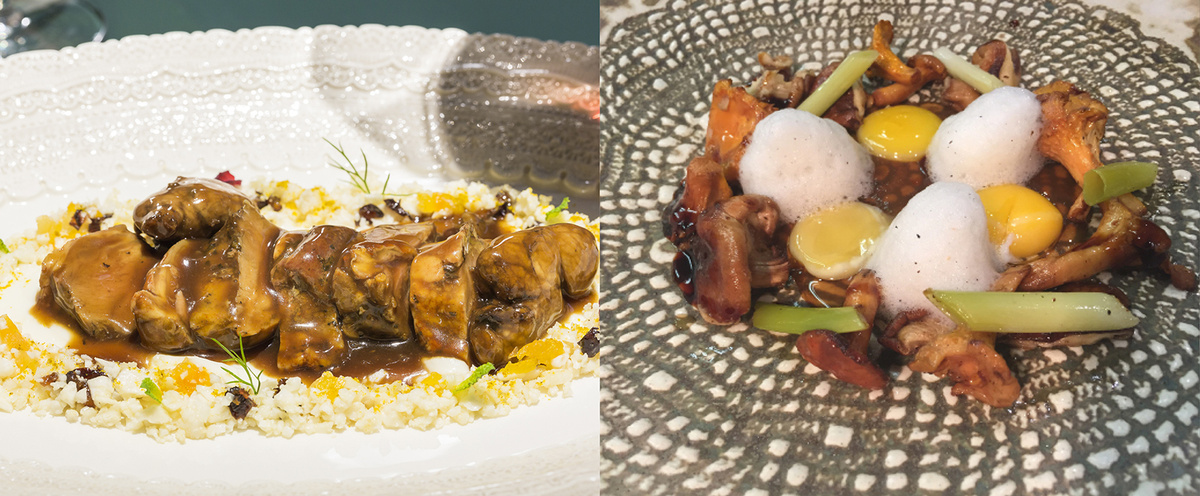 So... Tradition or avant-garde cuisine?

In this point, I believe that both worlds go hand in hand at María Luisa restaurant. We try to respect the tradition to the maximum trying to doing it by it using more avant-garde techniques that provide a different touch but without losing the essence of the dish.
Where does the inspiration come from?

The inspiration comes from the raw material, from the local product, as well as from the traditional Andalusian recipes books. This is the starting point of our work.
You love Andalusian proximity products...

Having such excellent products in Andalusia as veal, olive oil, mushrooms, etc. we couldn't pass up the opportunity to work with them and proudly display our land. For example, bread is served daily from Bollullos town, fish and seafood are brought directly from Huelva and Cádiz: Conil, Isla Cristina, etc.
What dishes would you highlight from María Luisa's menu?

The Al-Andalus Style lamb with cauliflower couscous, the Aracena mushrooms with their jelly and starry eggs, or the Rota style sea bream. These are three dishes that clearly define our intentions: Traditional flavors, proximity products and avant-garde techniques. And they surprise the diner.
Let's talk about the diner… How is the restaurant customer?

Our customer is everyone who loves good food and drink, open-minded to enjoy something different: Both guests staying at the hotel and other Seville visitors, and of course the Sevillians.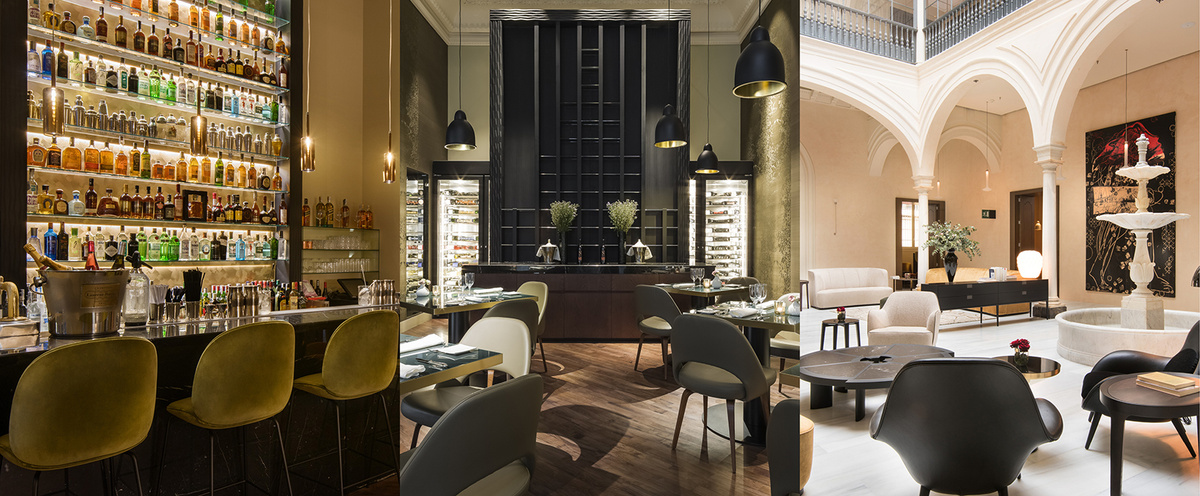 What's the difference between Maria Luisa and other restaurants in Seville?

We offer a different service, in various spaces of the wonderful hotel, which is worth coming just to see its architecture and design... It's like a "three acts" experience: A drink-aperitif and a series of snacks in the Cocktail Bar, the main dishes in the restaurant and finally we serve our "petit-fours" and coffees in the patio. We guide the diner through a gastronomic tour of the Andalusian flavors.
You are innovators...

Luckily, more and more colleagues are innovating and risking in Seville, and we are part of this group that wants the Sevillian culinary culture to evolve in this line, without losing the heritage of our flavors.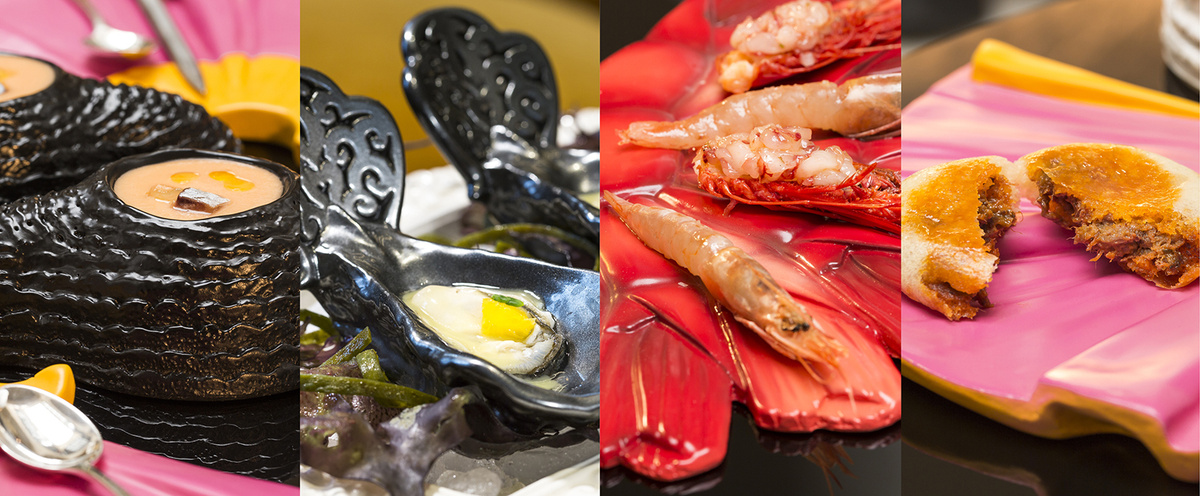 Where does your passion for cooking come from?

My relationship with the kitchen begins in my own house, where I lived the love for the good table and good dishes to enjoy together in a family ambience.
An essential ingredient in your kitchen...

A good olive oil and local wines (fino, manzanilla, etc.), of course.
---
María Luisa Restaurant
Calle Castelar, 26. Seville (Spain)
Tuesday to Saturday, from 13.30 to 15.30h and from 20.30 to 23.30h

Closed Sunday and Monday
Published in: Restaurant, Sevilla Tags: Sevilla MercerHoteles MercerSevilla Restaurant Seville Chef